This post is also available in: Русский
Once upon a time there lived an old and gloomy Dwarf in a house built on the forest edge. In front of the house there were paths neatly covered with dry fir needles, a fence was built from dry twigs. The sun almost never got inside of the house, and no one knew really what was there.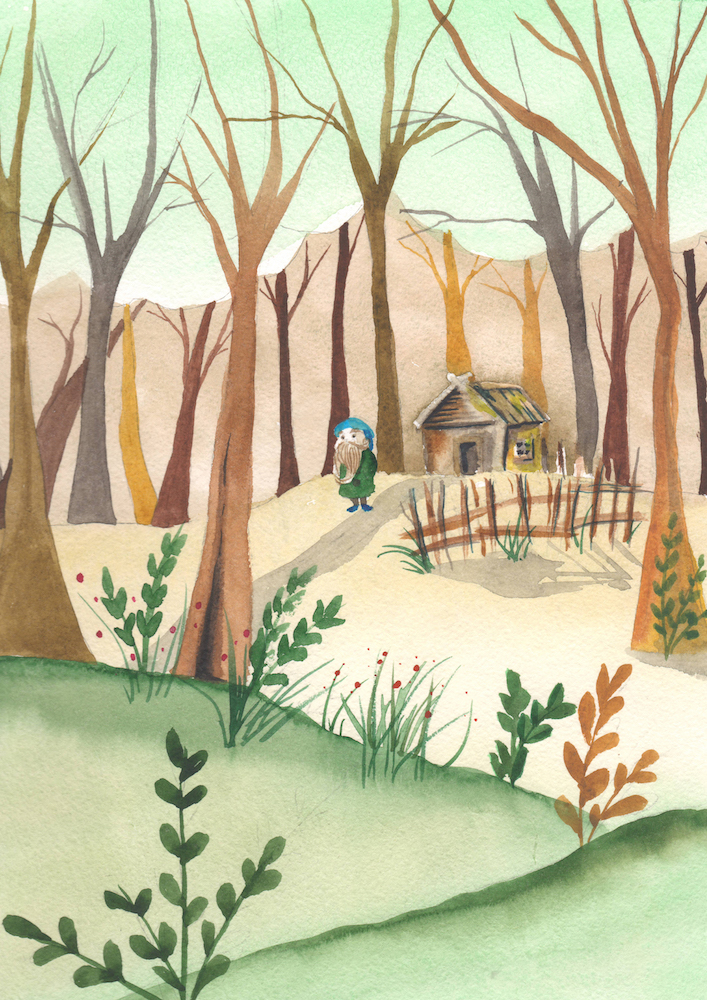 Dwarf wore a warm green coat year-round. Elderly people freeze very often, so even on a hot day Dwarf fastened all the buttons and wore a belt. The buttons were his great pride: round and iron, they glittered perfectly in the sun.
Long winter months he spent inside and went out only to clean the snow. In winter the unusual color of his eyes became very noticeable – they were like blue sky. None of the forest dwellers couldn't get through to him – the grouchy and spiny old Dwarf wasn't very charming. It seemed, only hedgehog had earned his trust. Perhaps, they came together because of the needles: one had them inside, and the other – outside.
In the short summer months old Dwarf, on the contrary, spent all his time outside, making supplies for winter. He picked blueberries and lingonberries carefully in a basket. Sometimes he went to the distant swamps for cranberries, leaning on a large dry stick. This trip could take him the whole day, but still, he brought back home  the same little basket. You can't take much, especially if you are a dwarf.
Sometimes he would pick herbs and dry them, like hay, around his house or on the roof. Forest dwellers sent a hedgehog to him from time to time to ask for herbs or tincture, if someone got ill. Dwarf never said no, but was also not particularly interested in the health of those who asked him for help.
The hedgehog pitied the old man, he did not understand why Dwarf was so gloom and lonely. One day he brought a large and beautiful porcini mushroom on his needles. Since then they always went for mushrooms together, after all, you can carry far more mushrooms on the hedgehog than in a small basket.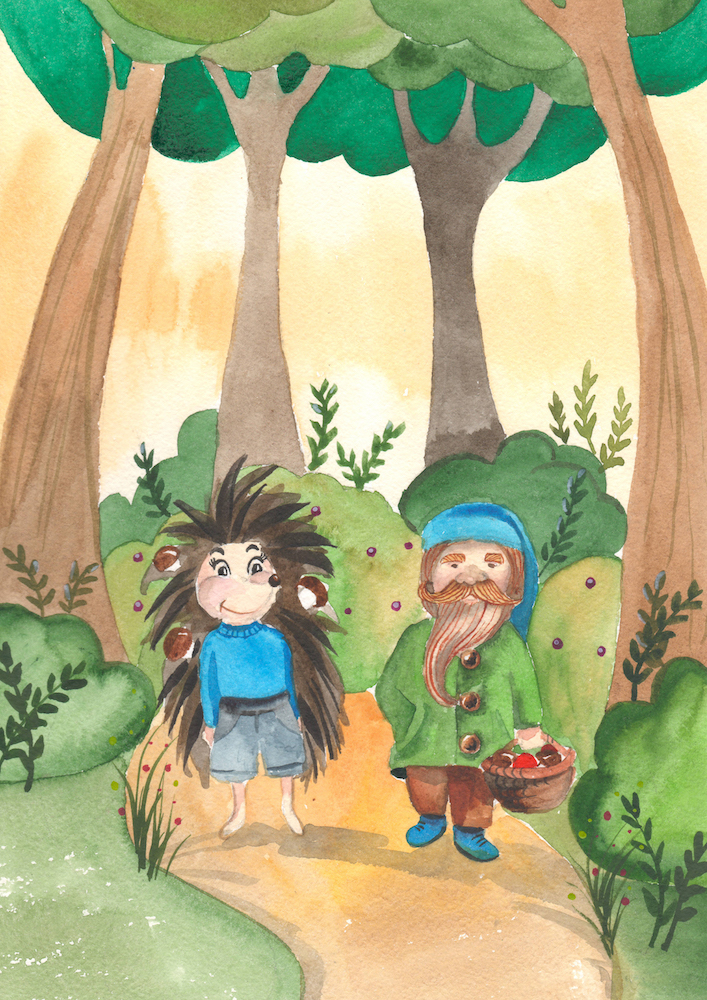 Old Dwarf had a special love to boletus – those with red caps and with brown caps, which stalks resembled birch trunks. Quietly, trying to become invisible, there lived an old and lonely Dwarf. But one day everything changed …
Gnome and his girlfriend Mouse went for a walk in the forest. The bosom friends ran cheerfully along the path and Sunny Beam looked after them, so that they would not get into some sort of trouble. And  the path led them to a small and cozy clearing, where they decided to lie on the grass and play around a little. This clearing was surprisingly very well-groomed, berry bushes were trimmed, paths were made with fir needles and twigs. But, as we know, our friends simply can't rest quietly, so soon, attracted by their squealing and laughter, forest dwellers began to appear and peek. Their fun did not stop at the gates of old Dwarf, who was furious with such invasive behavior around his house. He grabbed his stick, the very one which he brought to the marshes, all shaking with anger he jumped out and rushed off to drive the uninvited guests away.
Gnome and Mouse were so stunned still by surprise, when an old shaggy man jumped out, as if from under the ground, shouting and waving his stick. Sunny Beam, which was supposed to look after friends, at that time was chasing the squirrel enthusiastically and missed the beginning of the drama …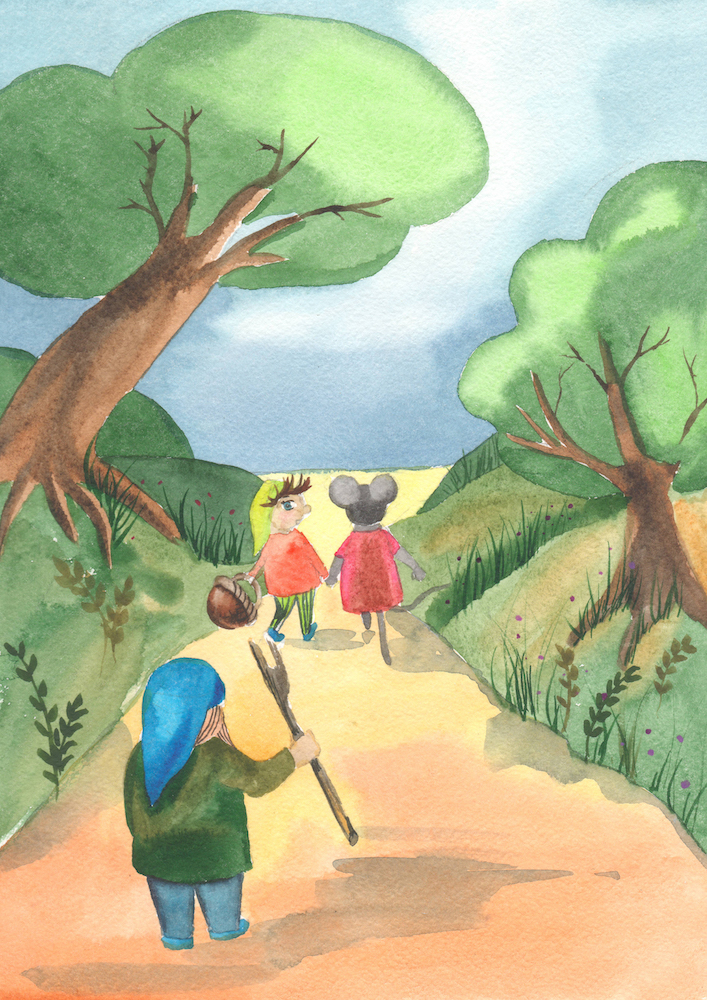 "Run!" – Gnome yelled. And they ran, getting in each other's way. At this time, the great Sun, which knows everything about us better than we do, had forgotten about his routine tasks and, having realized the situation, began to fix it quickly. First thing, he pushed two small clouds together, got a non-dangerous lightning and launched it into the old man so gently …. At that moment old Dwarf suddenly recalled all his life, and in one of the uninvited guests he recognized his grandson, whom he hasn't seen for several years . He remembered that once he took offence at his relatives, left to the forest with annoyance, and lost his way back; and no matter how hard he tried to return home, it did not work. So he decided to stay in the forest. And since old Dwarf was extremely stubborn, holding a grudge against his relatives, he did not ask any of the forest dwellers for help. Over time, he had already forgotten, why he was offended, but his pride didn't allow him to ask for help. He grew more sullen and sullen, and gradually turned into an old grumpy man.
And the great Sun did not lose time, to stop our friends' escape from the clearing, he began to shine upon their eyes with all his might so persistently, they realized they didn't see the road at all and had to stop. At that moment, old Dwarf, having forgotten his stick, was already running with cheers and open arms to his grandson.
Seeing this change in mood, little Gnome and his girlfriend were stunned still for the second time, frozen with horror and pulled into old Dwarf's arms.
Sun stopped blinding their eyes, and little Gnome suddenly recognized his grandfather, who had left for the great journey and the whole family couldn't wait for his return.
How much joy there was on a small forest meadow! But the dwarves had to try hard to make Mouse come to her senses and realize from their screams and laughter what a story had happened to them.
And then they drank herbal tea with raspberries and other delicious fruits.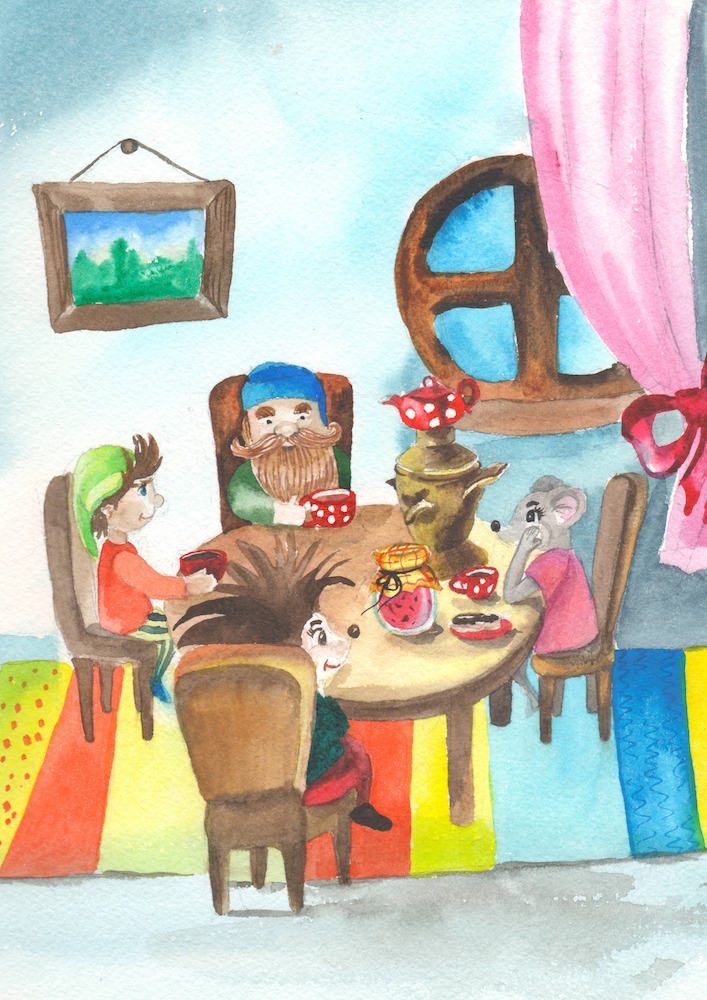 Little Gnome suddenly realized how much he had missed his grandfather.
Soon, the great Sun sent our heroes several of his children, Sunny Beams, who were loaded with tiny jars, and bags, and a lot of other small things for the big Road home.
How happy was the old Dwarf's family that he had returned! And he was happy too, and, with tears in his eyes he realized, no matter how great your grievance is, and how your heart is blushing with pride, you will always have the Road home – where they are waiting for your coming back from great Journey. A great wise Sun will always light your Way, because from the very beginning it knows everything about each of us. A Little Gnome with his girlfriend Mouse still have many, many big and small Universes to discover for us in their favorite journeys.