This post is also available in: Русский
Morning met them with gentle sunlight. Friends went out of the hole and looked at the endless ocean space with admiration. Crab had chosen the right place for the hole. Quiet waves had almost approached their new house and rustled on the sand right at their feet.

"It's time to eat something," – Gnome said thoughtfully. Mouse felt an intense hunger at once. There were no birds with delicious fruit in sight. Crab, as a host, led friends closer to palm trees thickets. Somewhere there, close to the sky coconuts were hanging. Gnome was taken aback, because he had never climbed such tall trees, and the times, when he had to scramble up on Cloud to make it rain seemed so far away … And Sunny wasn't going to release her saving beams from the sky. Crab, with a thoughtful smile, went on and disappeared in the thickets; suddenly he rolled out a large and round coconut.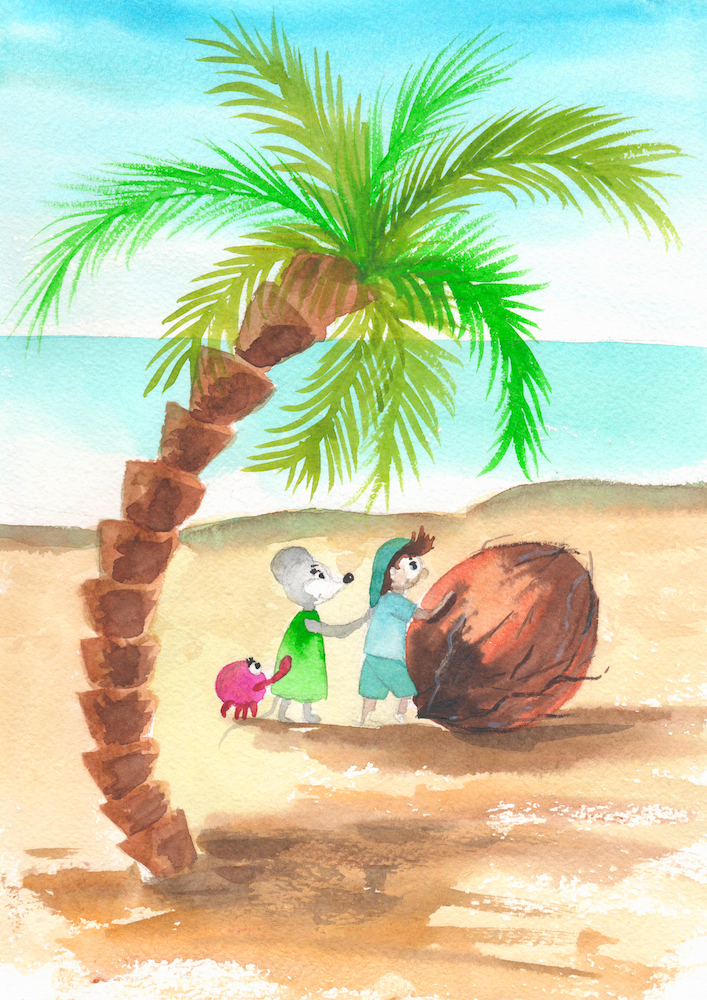 On the one hand, the task was simplified, and on the other, it became completely unclear how to crack the coconut … Mouse ran away to examine the shore and returned absolutely happy.
– We must speed it up and throw it off the shore at great speed. It will hit a stone and brake, – she said in a breathless voice.
They began to roll coconut in single file. Friends ran faster and faster and suddenly it got away from them and rushed to the shore bouncing on the run.
Boom!
Boom!
Kaboom!
Crab quickly reached the place where it had fallen. The coconut cracked into two halves and a soft white flesh was opened. Mouse and Gnome have never tried coconut before. Crab was biting off the supple flesh with his claws and passed slices to his friends gladly. Soon there were two empty large halves laying in front of them, one could climb into them like into a house or a boat.
The food was satisfying, and our friends went to get acquainted with the Ocean. Their most responsible Cloud, which had spilled herself into the Ocean have been calling them cheerfully, appearing in every approaching wave. The water was incredibly warm and tender. Mouse and Gnome were joyfully frolicking until they saw a black fin approaching them.
Shark!
In a moment they had already jumped ashore. Mouse was trembling and Gnome could not catch his breath.
She swam nearer to the shore and gave the friends a severe look. Crab did not express a slightest worry.
– Hello, Baby Shark. These are my friends, – he said proudly.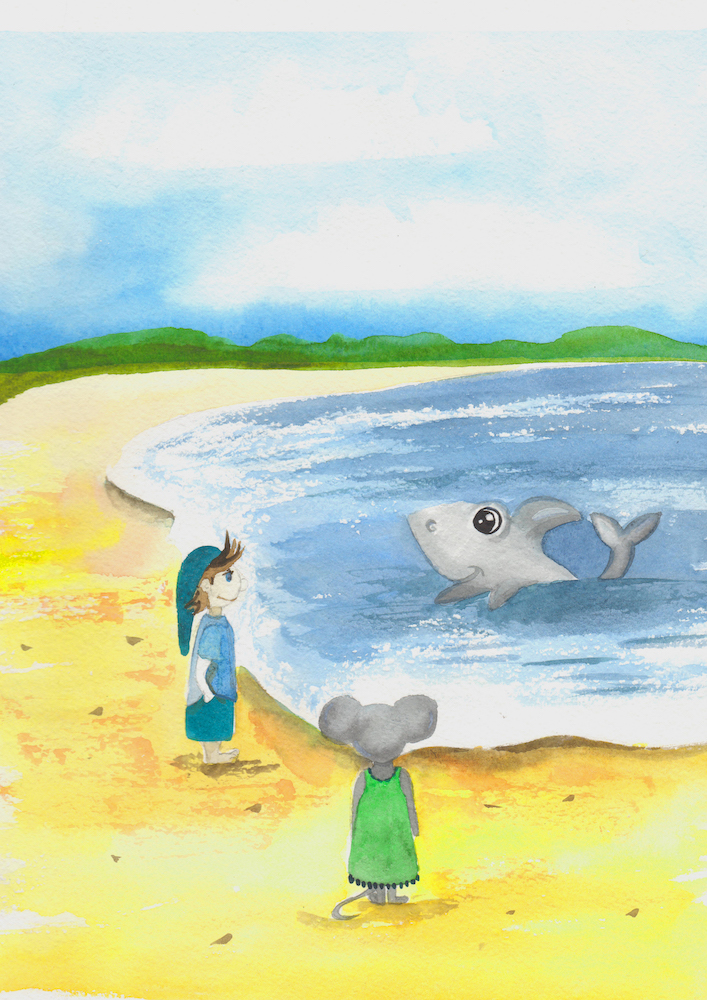 – Hello, – said Shark, which actually was not so terrible. She lived in a warm water next to a sunny shore and waited for growing up and turning into a serious and important lady. Meanwhile, every day she swam to the Crab's hole to watch his painstaking work, when dabbling Ocean was pouring into his new hole. Or she was jumping next to him in the waves, while he was focused on searching something on a sandy ocean bottom.
After swimming and playing with Crab and Shark, Mouse and Gnome suddenly remembered that there was House Number Six, waiting and missing them at the foot of the magic hill.
– And what is our House doing now? – asked worried Mouse.
Gnome, looking at his girlfriend, realized that it was time to return home.
Their girlfriend Cloud was so carried away by the Ocean that she at all stopped responding to their requests to take them home. Sunny had now no place to lower her beams …
In the evening, they gathered on the Ocean shore and arranged a council to decide what should they do next. Interested in evening gatherings, Shark swam to the shore, listened to excited voices, and suddenly said:
– Why don't you sail over the ocean on a boat? I can show you the way.
Crab looked at Shark with gratitude. He was a little sad that Mouse and Gnome were leaving the island. He had learned so much from them: not to be afraid of his own shadow, to accept help, and trust your friends. He suddenly realized that Shark, whom he met every day and in the evenings at sunset, was and still remained his true friend, unassuming in the vanity of each day, and that after the departure of his new friends he would not be left alone.
– What will we sail on? – Said cheerful Mouse in a businesslike voice.
– We'll sail in a coconut shell, – it struck Gnome. – Thus, we are going to have a supply of food and a boat.